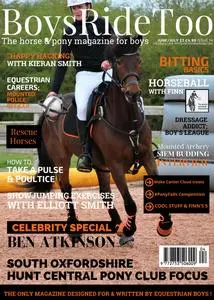 Boys Ride Too – June 2023
English | 56 pages | PDF | 80.1 MB
This issue we introduce you to an equestrian sport we haven't covered before - Horseback Archery. It requires great skill but is easy to get started with. You can also read our interview with the brilliant Siem, who is the European Champion in the sport. You can read about our own BRT Finn and his Horseball journey this year - another very cool sport requiring some serious skills. Plus, coming back to the more usual pony pursuits, you can pick up some great showjumping tips with expert Elliott Smith.
We have a great section all about rescue ponies and some of the charities that work hard to make sure they have the best lives possible, you can learn from the Fresh Vet, Mark, how to apply a poultice and some brilliant tips on bitting from Charlie B and Expert Bits.
We are also excited to welcome Kieran Smith, who you may know from tiktok and instagram. He has written all about the benefits of hacking for both you and the ponies you are riding and we look forward to more from him this year.