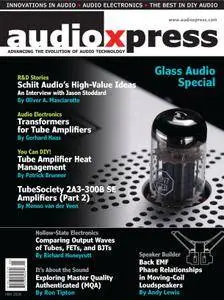 audioXpress - May 2018
English | 68 pages | True PDF | 34.3 MB
It's About the Sound
8 Exploring Master Quality Authenticated (Part 1)
Measuring the Difference
By Ron Tipton
14 Back EMF Phase Relationships in Moving-Coil Loudspeakers (Part 1)
Identifying, Quantifying, and Modeling Back EMF
By Andy Lewis
24 Acoustics in Performance
Review by J. Martins
26 Schiit Audio's High-Value Ideas
By Oliver A. Masciarotte
Oliver Masciarotte has an opportunity to sit down with Jason Stoddard, to discuss his company Schiit Audio, a high-value brand available at reasonable prices.
32 Transformers for
Tube Amplifiers (Part 1)
Transformer Basics
By Gerhard Haas
This article series explains the fundamental properties of transformers, examines the important criteria for rating and building a transformer, and analyzes how the transformer circuitry affects the overall result.
42 DIY Tube Amplifier Heat Management Options
By Patrick Brunner
Tube amplifiers generate the most heat per watt of audio output. Our author shares some methods to greatly increase the performance and the reliability of your DIY tube amplifier.
46 TubeSociety 2A3-300B SE Amplifier Project (Part 2)
Saving the Best for Last
By Menno van der Veen
In the first part of this article series, Menno van der Veen described four 300B single-ended (SE) amplifiers that he built as prototypes for his students. Here, he describes the fifth and final amplifier, detailing the power supply section and the construction.
Hollow-State Electronics
58 Comparing Output Waves of Tubes, FETs and BJTs
By Richard Honeycutt