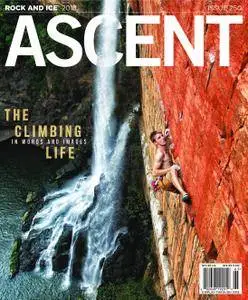 Rock and Ice - June 2018
English | 116 pages | True PDF | 39.2 MB
In the Annual issue of ASCENT:
VOODOO CHILD: Golden decades of first and early ascents with Richard Harrison, one of the least-known but most influential Stonemasters, before shadows caught him up. By John Long
THREE STARS: Writing gear reviews might seem mundane, but - like writing about, well, climbing- it's harder than you think. By Andrew Bisharat.
MY LETTER TO GOD: A lifelong climber pens the Big Guy a note wondering: Why do you keep trying to snuff me? Considering all his too-close calls, it seems a fair question. By Eric Sanford.
PARADOX IN PARADISE: On a normal day in the tropics of Maui, with its blossoming climbing scene, an alarm warns of an inbound ballistic missile. The author thinks about his sons, his life, and a long-ago climb. By Jeff Jackson.
THE ART OF CLIMBING: The history of climbing art hasn't been told, until now. While much has changed about how we view the mountains, the underlying theme of adventure still resonates. By Francis Sanzaro.