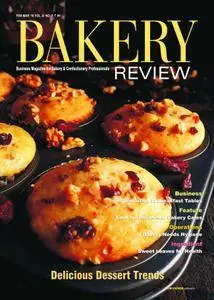 Bakery Review - February/March 2018
English | 44 pages | True PDF | 9.5 MB
With the wave of health consciousness sweeping through urban India during the recent years, the gluten-free desserts and vegan desserts are gaining popularity. In our Cover Story, we have discussed various dessert trends across India's food service industry, through interactions with some industry experts.
The Business Story endeavours to explore the evolution in India's breakfast market, where the bakery and confectionery industry can play an important role.
The case of impressive market potential of QSRs, bakery cafes and stand-alone bakery outlets specialising in our indigenous bakery products is presented through our Feature section.
With diabetes becoming a huge health menace in India, the role of natural sweeteners is expected to assume more importance in India's bakery and confectionery industry. Besides these, other interesting industry relevant issues and important information pertaining to India's bakery and confectionery industry are being presented in this issue.