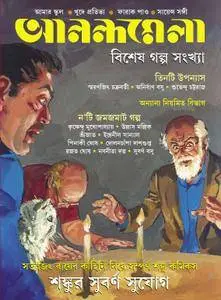 Anandamela - 05 মার্চ 2018
Bengali | 187 pages | True PDF | 39.8 MB
This issue of Anandamela is a special issue. The fast and foremost attraction of this Anandamela is a Comics on Ray's famous Shanku series. This is illustrated by Abhijit Chattopadhyay. This time the story is 'Shankur Suborno Sujog'.
The next attraction point is three breath-taking novels which are written by Smaranjit Chakrabarty, Anirban basu and Shubhendu Chattoraj respectively. Nine stories of individual flavour are also there. These stories are written by Krishnendu Mukhopadhyay, Ullas Mallick, Srijato, Indranil Sanyal and others.
The Sports section of Anandamela features one article on promising Indian wrist-spinner duo Kudip Jadav and Yujabendra Chahal.
The magazine also carries regular features such as 'Khude Pratibha', Amar Quiz', 'Amar Boi', 'Ja hoyeche Ja hobe', 'Natun Khela', 'Farak Pao' and many more.